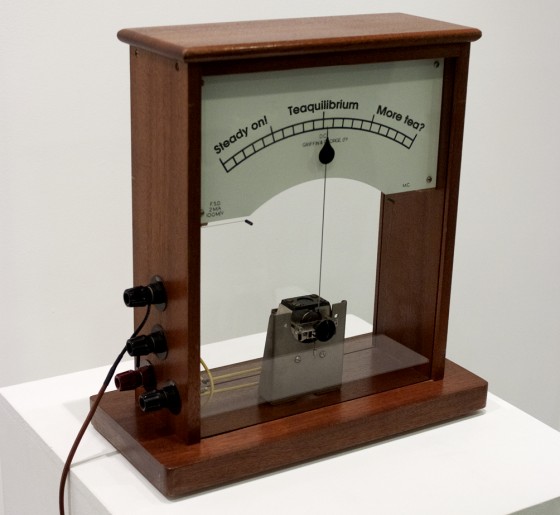 Time for Tea?
Media: moving coil meter, computer.
Photograph: ©
Gaynor Perry
, 2010
"Time for Tea?" provides a real-time visualisation of electrical capacity fluctuations in the UK National Grid. An operating surplus results in a suggestion to take tea, deficit a call for restraint.
The indicator is made from a large, mid-twentieth century analogue voltmeter of the sort found in both school physics labs and power stations built in the first half of the twentieth century. Its durable, utilitarian design is a bittersweet reminder of the innocence and technocratic optimism of that period, and the unsustainable patterns of energy generation and consumption it established.
The work as a whole draws attention to the fragility and contingency of utility energy supply. Reducing this life-or-death issue to the question of whether or not to partake in tea, the work satirises our paralysis and impotence in the face of complex, global problems whilst referencing that quintessentially British solution to any crisis.
© Andrew Back, 2010